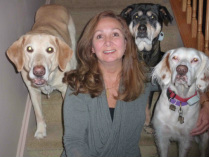 Sharon Bednar- President
Sharon has been a Registered MRI Technologist for over 20 Years. For over seven years Sharon has owned and operated a pet service business. She volunteers at the Salem County Humane Society and is a foster mom for animals with special needs. She established and led the New Jersey Chapter of a pet therapy organization for 7 years. Sharon's volunteer services and dedication to the people in her community was acknowledged when she was awarded the 2012 Gloucester County Citizen of the Year. Sharon utilizes her own pets, (Three Dogs & Two Cats) in her pet therapy efforts, who were themselves acknowledged for their outstanding work when they were honored and entered into the New Jersey Veterinary Medical Association Hall of Fame in 2013. Sharon has received numerous recommendations, proclamations and letters from the County, State and US Senate in recognition of volunteer work. She is also certified as a Canine Good Citizen (CGC) Evaluator through the AKC. Sharon lives at home with her 3 pet therapy dogs, 3 cats, 1 talking bird, husband John and numerous foster pets.
---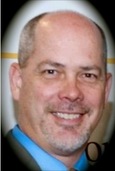 John Bednar- Vice President/Treasurer
John has been married to Sharon for 28+
years and has lived in Gloucester County since 1997. John is a business professional holding various management level positions with several different companies. He is currently working in Philadelphia with Day & Zimmermann, Inc.

He has been providing pet therapy services for the past seven years with a different pet therapy organization utilizing his own pets in this effort. He assisted Sharon in establishing and growing the New Jersey chapter of that particular pet therapy organization. John provides ongoing care for the special need foster animals from the Salem County Humane Society. John is the proud father of three dogs and one cat who were inducted in the New Jersey Veterinarian Medical Association Hall of Fame earlier this year.

In October 2015, John received the Presidents Volunteer Gold Service Award, Lifetime Achievement Award, Certificate of Special Recognition, Letter from President Obama, State of New Jersey Senate & General Assembly Citation, State of New Jersey Joint Legislative Commendation and Volunteer of the Year Award.

John felt the manner and methods for delivering pet therapy services could be further enhanced by establishing a pet therapy organization based in his own community. With the assistance of his wife and other dedicated volunteers, John's vision is now a reality.
---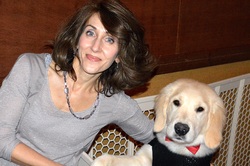 Dr. Laurie Appel- Secretary
Laurie Appel, Psy.D is a licensed Psychologist specializing in individual, couples and family therapy. She is a consultant for Sub-Acute Rehabilitation and Assisted/Long-Term Care Facilities in New Jersey and maintains a private practice in Swedesboro, NJ.

She has over 20 years experience as a licensed psychologist, and is a graduate of University of PA undergraduate program and of Widener and Hahnemann University Graduate School, specializing in clinical psychology. In her practice, Dr. Appel is an avid supporter of pet-assisted therapy. She has appeared on local TV promoting the benefits of animals in care facilities and has supported the use of pet therapy for individuals and families.

She and her family rescued a Golden Retriever, Alex, who was thought to be "too wild" and given up to a rescue. Ultimately Alex became a wonderful family pet and a pet therapist. Their new Golden puppy, Dexter, is on his way to becoming a proud FAF member.

---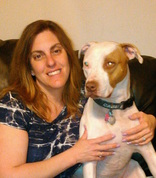 Jennifer Patten- Director of Public Relations & Event Planner
Jennifer grew up in southern New Jersey, attending Delsea Regional High School. She and her mother raised Pygmy goats. As a child, she loved animals and began working at a horse farm in exchange for lessons and riding time. Mentored by an elderly gentleman and working hard, she eventually bought her own horse. Continuing to work, she funded the purchase of tack, show and care for her first horse Tuffy. Upon graduating high school in 1990, Jennifer began working in a veterinary office where she eventually became a veterinary technician. In December 2001, Jennifer began working at Mullica Hill Farms, Inc. as the Barn Manager. Her years of medical and horse experience make her an ideal manager. Along with the owner of the farm, Jennifer has become active in the Phillies player, Chase Utley family's charity; The Utley Foundation along with the PSPCA. After adopting her first Pitbull and realizing the gentle nature of Case, Jennifer was recommended to FURever As Friends and became involved with the group. Jennifer is married to Anthony Jr. and resides in Mullica Hill. They have a 4 year old son, Anthony III.


​
---
Advisory Board: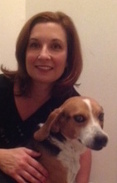 Karen Spring
Karen is a professional writer and editor in southern New Jersey. She holds a bachelor's degree in communication from La Salle University in Philadelphia. In her current position, Karen tracks high-tech industries, including network security, public safety, Internet security, and software tools for an IT consulting firm. She also writes regularly on high-tech topics for publications in the k-12 and higher education industries and edits and proofreads documents for clients in various sectors. Previously, Ms. Spring was a marketing specialist for two computer distributors, working closely with such clients as 3Com, IBM, Okidata, Unisys, and Acer.

Karen's husband Eric and their two sons are also heavily involved with FAF. Their family is completed by Samantha, a beagle who joined the family in 2005 after being rescued from a highway in Virginia. Samantha is an active participant in FAF activities and keeps her family on their toes with her constant naughty antics. As a mom of young children and an animal lover, Karen is a firm believer in promoting literacy as well as encouraging and teaching kids and adults to respect animals.

In 2014, Karen and Samantha received an Honorable Mention from the New Jersey Veterinary Medical Association for their work in pet therapy.


---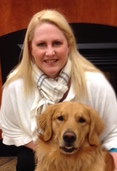 Laura Carroll
Laura is a Sr. Executive Administrator for Visa Inc., in Wilmington Delaware, the world's leading Global Payments Technology Company. Laura has been with Visa for almost 9 years supporting 4 powerhouse teams; the Emerging Acceptance and Established Acceptance-Merchant Sales and Solutions group, the JPMorgan Chase Team, and the TD Bank Team.
In her spare time Laura loves to hunt for treasures in antique shops, is an avid reader, writer and loves to write poetry as her favorite poets are Charles Dickens, Edgar Allen Poe and Robert Frost. Her favorite person in history she studies at length is Abraham Lincoln and currently owns over 35 books on his life and the tremendous mark he made on our country. Laura's partner in crime is her 3 year old Golden Retriever "Navarre" named after the medieval knight in the movie Lady hawk Laura and Navarre travel extensively throughout the area and love to hike and spend time in the woods. Fall is their favorite time of year with Halloween being their favorite holiday. Laura is a huge animal rights activist and supports many organizations like the World Wildlife Federation, the ASPCA, and PETA. Living the country life is her passion and dreams to own a farm so she can rescue and save animals.


---

Lisa Komadina
Lisa has been married since 1997, has three children, and one step daughter in college. Her kids are involved in soccer and karate, plus do volunteer work at the animal shelter. Lisa is an employee for The Home Depot since 1993, worked at the Charles G. Harker School since 2011 and now is at the Walter Hill School. Her daughter Jada is a junior team member for FAF and has been awarded the prestigious gold level President's Volunteer Service Award for 2014 because of her involvement with FAF. Her two boys, Benito, a high school honor roll student with ADD and Niko, a third grade honor roll student with a developmental delay, have both participated in FAF therapy which makes Lisa a strong believer and supporter in the FAF therapy program. With a less judgmental and less stressful environment, and with a friendly paw shake and pet kiss here and there, their confidence in reading had improved drastically.

---

JOHN VINCIGUERRA, VMD
Dr. John completed his undergraduate degree from Delaware Valley College in Doylestown, Pennsylvania with a B.S. in Animal Science. He then attended the University of Pennsylvania School of Veterinary Medicine in Philadelphia. Dr. John has been practicing small animal veterinary medicine in Southern New Jersey since graduating from veterinary school in 2003. He purchased Tri-County Veterinary Hospital in January 2007. Dr. John lives in Southern New Jersey with his wife, Sheri , two sons, John and Mateo, and his dog named Ruby. When he isn't working, Dr. John enjoys spending time outdoors on the farm with his family
---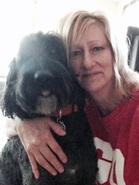 Shari Chase
Shari Is an administrative assistant for a local high school. She earned a secretarial certificate from HCA Institute and has worked for the school district for twenty-five years. Shari has been married to her husband Mark for 29 years and has two adult sons. Shari is an avid volunteer with the Salem County Humane Society. She is a member of the adoption committee, takes shelter animals on vet runs, and also works at the shelter weekly. She also opens her home to foster dogs who won't make it at the shelter. She started working with animals when her sons were young and involved in the 4H program. They raised Tennessee Fainting Goats while her son was a member of the Salem County Goat Herders club and still have a few retired show goats living with them! Shari was also an assistant leader for the 4H Lucky Beginnings Miniature Horse club while her son was a member and they cared for mini horses at a local farm. Shari became interested in pet therapy after volunteering at the Humane Society and having to leave her beloved dog, Pongo, behind. Pet therapy was a way to involve him in her activities. Besides Pongo, Shari also has Josh the rabbit in the pet therapy program. Shari is what we call a "foster failure" as she adopted two of her foster dogs in the last few years and has a long-term senior foster Chihuahua who lives in her home. She also raises mascovy ducks.

---

Cheryl Glass
Cheryl is a graduate of Glassboro State College with a BA in Elementary Education. Married to her college sweetheart, Kevin, they have two adult sons. Their ten year old cockapoo, Roxy rounds out their family.
As a former educator, the SMILE program appeals to Cheryl. She values the importance of strong reading skills at an early age. Reading skills are essential for academic and life long success.
Volunteering is an opportunity to change lives. Cheryl has devoted her time to a number of organizations. As a leukemia survivor, she is a First Connection volunteer with the Leukemia Lymphoma Society assisting newly diagnosed patients.
After completing her treatments, the family embarked on adding a new member. Little did they know, Roxy would become the best therapy for all of them. Now Cheryl enjoys sharing Roxy with others.
Cheryl is an avid Eagles and Phillies fan. She enjoys traveling, reading, and spending time down the shore.




---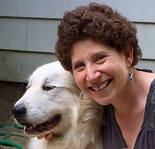 Phyllis McCarthy
Phyllis is an ASCP registered medical laboratory technologist and has been working in her field since 1985. After receiving her Bachelor of Science degree in 1983 from the University of Delaware, Phyllis resided in Gloucester County. In 1987, she became a Salem County resident and together with her husband, she raised 3 wonderful children. Although the children are grown and live on their own, the nest is still feathered with multiple dogs and cats. Since 2009, Phyllis has been an active volunteer for the Salem County Humane Society, from where she has adopted several animals. The "Paying it Forward" theme is an important one to Phyllis and Furever as Friends has provided a wonderful way to implement that idea. The S.M.I.L.E. program has allowed Phyllis to help children now ,so that in the future they will do the same for others.





---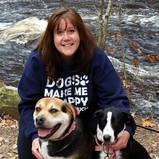 Susan Daroshefski
​Susan has worked in the insurance industry for the last 26 years handling both auto and fire commercial policy claims. She also maintains her NJ Realtor's license for the last 2 years. Susan is the proud parent of 2 amazing young men as well as 2 beautiful young female dogs, Daisy and Violet. Her love for animals and the strong belief that their unconditionally love heals all led her to FURever as Friends. As a child, Susan's mother was diagnosed with cancer and it had a profound effect on her life. The chance to help others that might be in pain or feel lonely by sharing the unconditional love and affection that a therapy pet offers appealed to her. So sharing the love Daisy had to offer seemed like a natural fit.
---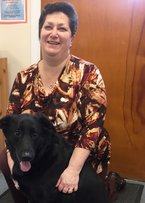 Anne "Mitzi" Kowal
Mitzi is a lifelong resident of Gloucester County and a recent retiree from the business world. During a difficult time in her life she adopted a beautiful puppy whom she named Angel. She would like to say that they rescued each other. Angel brought so much healing and happiness into her life that she decided they needed to go out and help others in their community. In 2014 they joined FURever As Friends and together they visit libraries, Pre K schools, schools for the special need children, nursing homes, funeral homes and hospitals. Mitzi also does presentations for FAF.
Gardening is also a passion in her life. She belongs to the Herb Society of America and the certified Gardeners of Gloucester County. You may come across her path planting flowers and vegetables througout the county or working in the butterfly house at Red Bank Battlefield in National Park.
---
Junior Advisory Board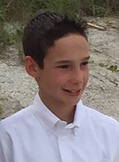 Aaron Spring
Aaron has been actively involved with FURever As Friends (FAF) since its inception in January 2014 as a junior member of FAF. In October 2015 he received the prestigious gold level presidents Volunteer Service Award, and a volunteer pin. He is a student at Monongahela Middle School in Deptford, NJ, where he is a member of the Student Council and the science club. He plays clarinet for the school's jazz and concert bands. In addition to FAF, Aaron has volunteered every May since he was a toddler to help put American flags on the graves of deceased veterans at Eglington Cemetery for Memorial Day. Aaron lives in Deptford with his parents, his twin brother Connor, his bunny Sebastian.
---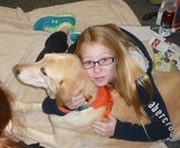 Jada Komadina
Jada is a resident of Woolwich Township and an honor student at Kingsway High School. She has been with FURever As Friends since the inception in January 2014. She handles numerous dogs and yes, even cats. You will always find her helping out at the libraries and community events. In October 2014, Jada received the prestigious gold level Presidents Volunteer Service Award, a letter of appreciation from President Obama, Joint Commendation from the State of New Jersey and a volunteer service pin. Along with her volunteer service, Jada also finds time to play Soccer, Softball and Karate in which she is a Black Belt.
---