FURever As Friends (FAF) certified pet therapy teams visit libraries and schools for our S.M.I.L.E. program, along with Nursing Homes, Assisted Living Centers, Hospitals, Special Need Adult Centers, Funeral Homes and Group Homes. We also give presentations to schools, churches, Girl /Boy Scouts and various other organizations.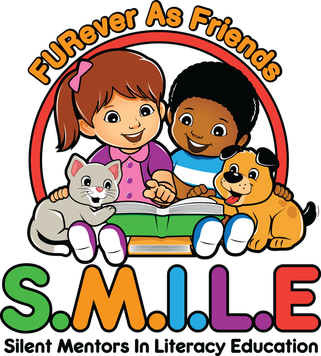 S.M.I.L.E - Silent Mentors In Literacy E
ducation
The goal of the S.M.I.L.E. program is to improve, encourage, and nurture the literacy skills of children with the help of certified pet therapy pets in library and school settings.

A child who has some reading difficulties or is hesitant to read aloud may find it more relaxing and less stressful reading to a pet than to a person because the pet doesn't judge, criticize or correct the child's reading. A pet can be a FURever Friend!

The S.M.I.L.E. Program is geared towards children who need to develop more confidence in reading. A team consisting of a handler and a pet (i.e. dog, cat, bunny) visit the contracted library or school twice monthly for approximately 60 minutes to two hours. Children typically spend 5-15 minutes one-on-one with the pet. Each reading session is dependent upon the child's attention span and skills. Sometimes the session is extended if the child would like to read or talk to the pet for a little while longer and if the time constraints for the child, the teacher in charge, and the handler will allow for extra time.

Purpose: To improve their literacy, inflection, communication, and vocabulary skills of children while boosting their attention span and confidence.

Environment: A quiet room with the child, the therapy pet, and the handler. The teacher is also in the room or sitting right outside the door but within the line of sight. This encourages focus since there is little noise and distraction during the sessions.

Time: 5-15 minutes per child for a reading session. The maximum amount of children is usually around 5-8 per school session to ensure that the session does not overextend the therapy pet's capabilities.

In addition to improving literacy skills and an overall interest in reading, a therapy pet program in schools may offer the following benefits to the reader:
Increased Compassion
Confidence
Stress relief
Better focus
Socialization
Improved moods
Increased attention span
Calming influence
Practice in being gentle and kind to animals
The children may have one or more of the following issues that make reading difficult:
Poor frustration tolerance

Learning challenges

Behavioral disorders

Down's syndrome

ADD or ADHD

Asperger's or Autism Spectrum Disorder

Developmental Delays

A Stutter or Tic disorder
It is our experience when sitting down in a quiet room with a loving animal, a child will immediately feel comfort and compassion. There isn't anyone who will critique the child's reading ability. The therapy animal is there to be a supportive, quiet presence. A pet cannot comment or criticize on how well (or how poorly) the child is reading. The child can nuzzle, pet, or brush the dog while he/she is reading. The entire experience is positive. The pet receives lots of attention and cuddles while the child experiences an environment that encourages his or her confidence in reading.

​Below are just a few examples of the positive changes that have been seen in children who have attended.

An angry child has had a bad week and has acted out in class. He has been reprimanded and made to stay in at recess. The teacher has advised that this might not be a good day for him to participate in reading to the dog, but she brings him in anyway. The boy is sullen and looks angry. He refuses to speak to the handler or the teacher. However, when he is handed the dog's brush and encouraged to simply sit down and pet her -- that he doesn't even have to read if he doesn't want to -- he immediately sits next to the dog, picks up his book and starts reading. Within seconds, the sullen disposition has been replaced with a wide smile and laughter as he reads a funny part from his book. No more bad mood.

Another boy who was a bit leery of dogs at first overcomes his apprehension within a few sessions. He sees how calm the dog is and he is encouraged to brush her since he is hesitant to actually pet her. By the third session, he has discarded the brush entirely so that he can pet her. He eventually asks if he can feed her treats. His fear of dogs has completely evaporated.

A child with Down's syndrome loves the program and looks forward to her session every other week with the dog. She now specifically takes time either at home or in the school library to select a book that she thinks the dog will enjoy listening to. This experience has encouraged her to try to read new and different books.

Some of the children are not able to have pets for various reasons (i.e. a sibling with allergies, living in a building where pets aren't allowed), and the reading program provides them with the opportunity to interact with a dog or cat when they would otherwise not have the chance to do so. This interaction teaches the child to be gentle and kind to the pet, how to properly brush or stroke the pet, how to properly give treats, and how to speak in a kind voice to the animal. Also, the kids love to ask about the dog – what she eats, how often she eats each day, if she's healthy, what types of treats she likes, what commands she knows, etc. This is another valuable experience because they are learning how to properly care for a pet.

There are many examples of children who started with the program with picture books or simple readers and have moved on to more advanced books and longer amounts of time reading to the pet as their confidence and love of reading grows.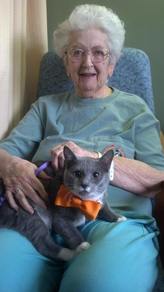 Assisted Living/Nursing Homes/Hospitals/Special Need Adult Centers
There are several types of Communities that provide daily or full-time services to people who may be in need of assistance during their daily activities or can no longer live at home.

Our visits remind them of pets they have had in the past and puts a smile of their face as they reminisce. The pets fill avoid in their lives. Residents wait in anticipation of our visits because the time spent with our pets makes them feel loved and wanted. Therapy dogs and their handlers visit these sites knowing their presence is an uplifting experience for the elderly people they meet. Their smiles and displays of gentleness and affection contact toward our pets reveal to both pets and handlers alike that a reciprocal relationship exists.

Our therapy teams are devoted to sharing our love and caring ways with the residents. It is obvious through their body language and enthusiasm when interacting with our therapy teams, that their need for pet/human contact is satisfied by our visits.

FURever As Friends provides the ABC's of life (Affection, Brighten one's day, and Companionship) for the folks we visit and care about so much.
Group Homes
FURever As Friends visits a residential program for girls who have behavioral/emotional issues, substance abuse problems and intensive treatment services in a trauma-informed treatment milieu that cannot be addressed at the community level. Here we provide calming, less stressful environment where the girls interact and play with our pets.
Funeral Home
FURever As Friends supports a wide variety of events held at funeral homes like the Celebration of Life, Butterfly Release, LifeStep Workshops, Pet Loss Remembrance and many more events throughout the year.